The Future Of Japanese Fashion
As a densely populated capital city, Tokyo is a melting pot for 'all new things' happening. Japan has been and remains at the forefront of technological innovations. Japanese startups are devising unique technologies, rethink business models, and search for eco-friendly alternatives at every step, from design to production, delivery, and reuse.
The latest advancement in Japanese fashion is the use of Artificial Intelligence and 3D manufacturing, as it is the case of Synflux.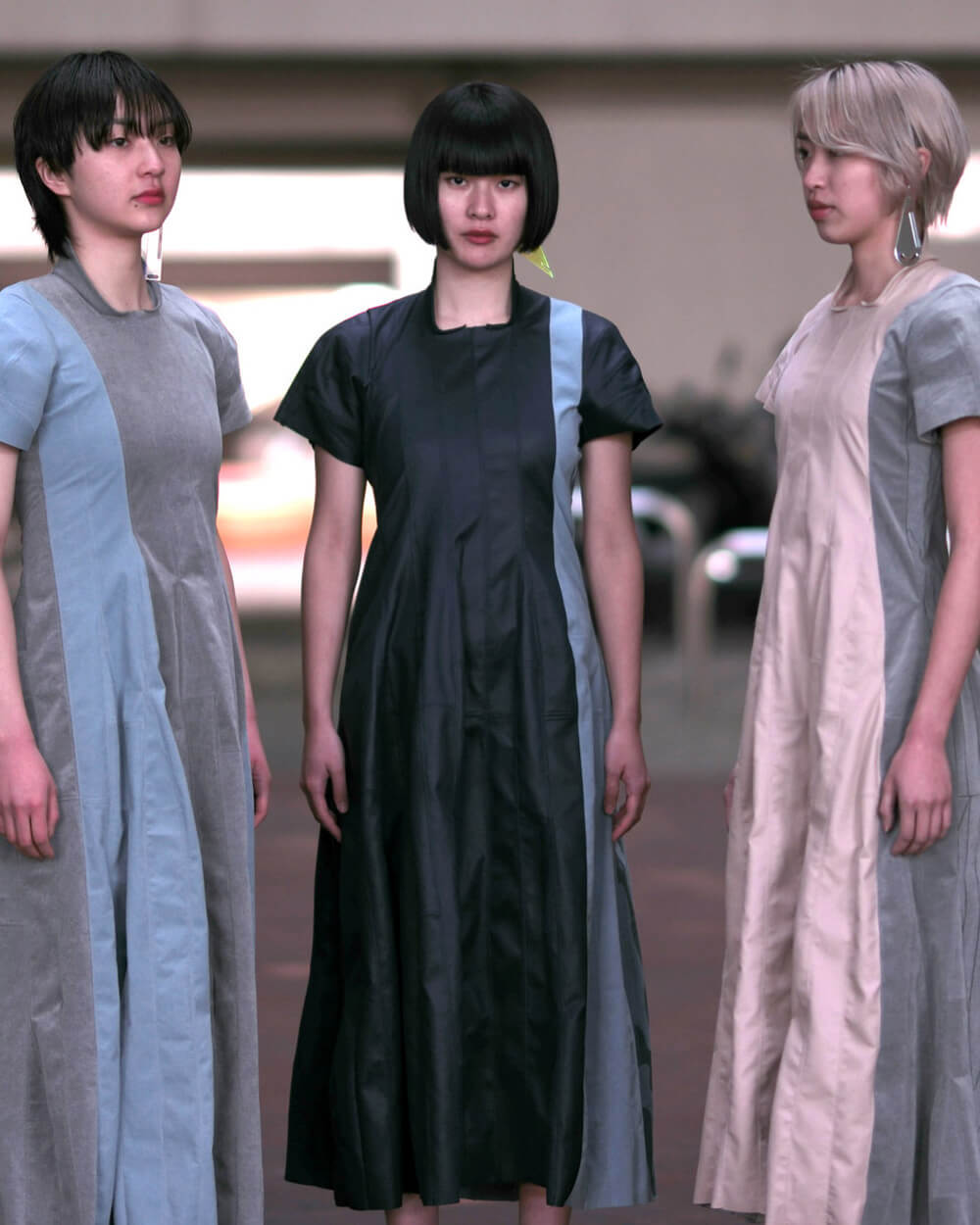 Synflux is just one of the thousands startup blending technology into Japanese culture, seeking to rethink the entire fashion ecosystem.
"A new way to consume is on the rise. It's all about on-demand, customisation, and sustainability," says Kye Shimizu, one of the brand's co-founders.
Using AI To Reinvent Japanese Couture
In 2018, the team's first project was a raw-edged Spandex dress. On its own, it was just a zero-waste puzzle of rectangles and trapezoids.
But the team fused a 3D-printed skeleton onto the stretchy fabric, to create figure-hugging pleats from collar to cuffs.
"With centuries of history and tradition behind, the kimono was designed to fit every type of body and signify one's cultural identity. That's why our generation has big responsibilities. For once, to remember our culture and traditions, and then, to update and refresh it," ads Shimizu.
First, a person was 3D-scanned so that the company's proprietary algorithm could deduce the optimum pattern to fit the body. Composed solely of rectangles and triangles, the fabric panels were cut to fit alongside each other. It's an AI cutting system the creators link back to the video game Tetris.
"It is the merging of the designer and the machine, via software," explains Shimizu.
The team calls these explorations Algorithmic Couture. Their creations got them noticed by the H&M Foundation's prestigious Global Change Award. Right now, Synflux' garments are on display at the "Making Fashion Sense" exhibit in Basel, at Switzerland's House of Electronic Arts. Their creations are presented alongside unique pieces created by recognised fashion tech talents, such as Iris van Herpen and Hussein Chalayan.
Sustainable Japanese Fashion
And this takes us to the importance of sustainability in Japanse fashion. Fashion is a 2.4 trillion dollar industry that 60 million people worldwide. However, fashion is an industry that creates mountains of waste and up to 10 per cent of the world's carbon output comes from the same industry. Right now, there are over 21 billion tons of textile waste discarded in the landfills, each year. Then, 20 per cent of the world's water is used to create apparel. These figures motivate Japanese, as a nation, to find better alternatives, especially now when the industry is at a crossroads.
Kansai Yamamoto fashion project.
As such, emerging Japanese designers are increasingly taking centre stage with next-generation hand-made couture from upcycled apparel and recycled textiles.
Junya Watanabe's SS19 collection – boro patchwork, upcycled fashion.
A tremendous example of sustainable fashion comes from SHOHEI, a unique brand that offers high-end sustainable couture. Shohei's unique ethos reflects Japan's existential core values of freedom, simplicity and creativity.
Sustainability Through Innovation
As a nation of innovators and trailblazers, the Japanese understand that the path to sustainability is through innovation. A 2019 McKinsey study revealed that 57 per cent of millennial and Gen Z consumers are willing to pay more for custom made products that have a minimal impact on the environment. As such, Japanese designers with a focus on customisation and sustainability are the rage right now.
These emerging Japanese designers are paying attention to two key factors:
Customised couture – aiming to decrease return costs and textile waste resulting from standard-sized samples.
Use sustainable materials – innovative, eco-friendly, cruelty-free materials that nurture and protect the environment.
Once again, Japan's new age of design and technology experts are ahead, by blending culture and beauty with innovation and utility. The future of Japanese fashion is in the right hands!
Japanese Designers To Watch In 2020
Finally, the global 'out of the box' stylistic movement owes a lot to modern Japanese fashion designers. These creative minds are redefining fashion rules, inviting us to explore the next level of fashion and style. Here are the top 10 Japanese designers to watch in 2020.
1. Chisato Tsumori
This Japanese designer has amazed the world with her wonderful prints.
As a lover of French culture and fashion, Chisato opened her first free-standing shop in Paris, in 1999.
The boutique was designed by Christian Biecher and is located on rue Barbette in the Marais neighbourhood.
The flagship boutique showcases Chisato's love for the arts through various collaborations with photographers, visual artists and set designers.
Chisato's hand-painted creations draw inspiration from Japanese culture and manga.
Also, the artist covers contemporary art, felines, and other Japanese specific motifs.
2. Sk8thing
Originally from Tokyo, Japan, Sk8thing is the lead designer of streetwear brand A Bathing Ape (Bape).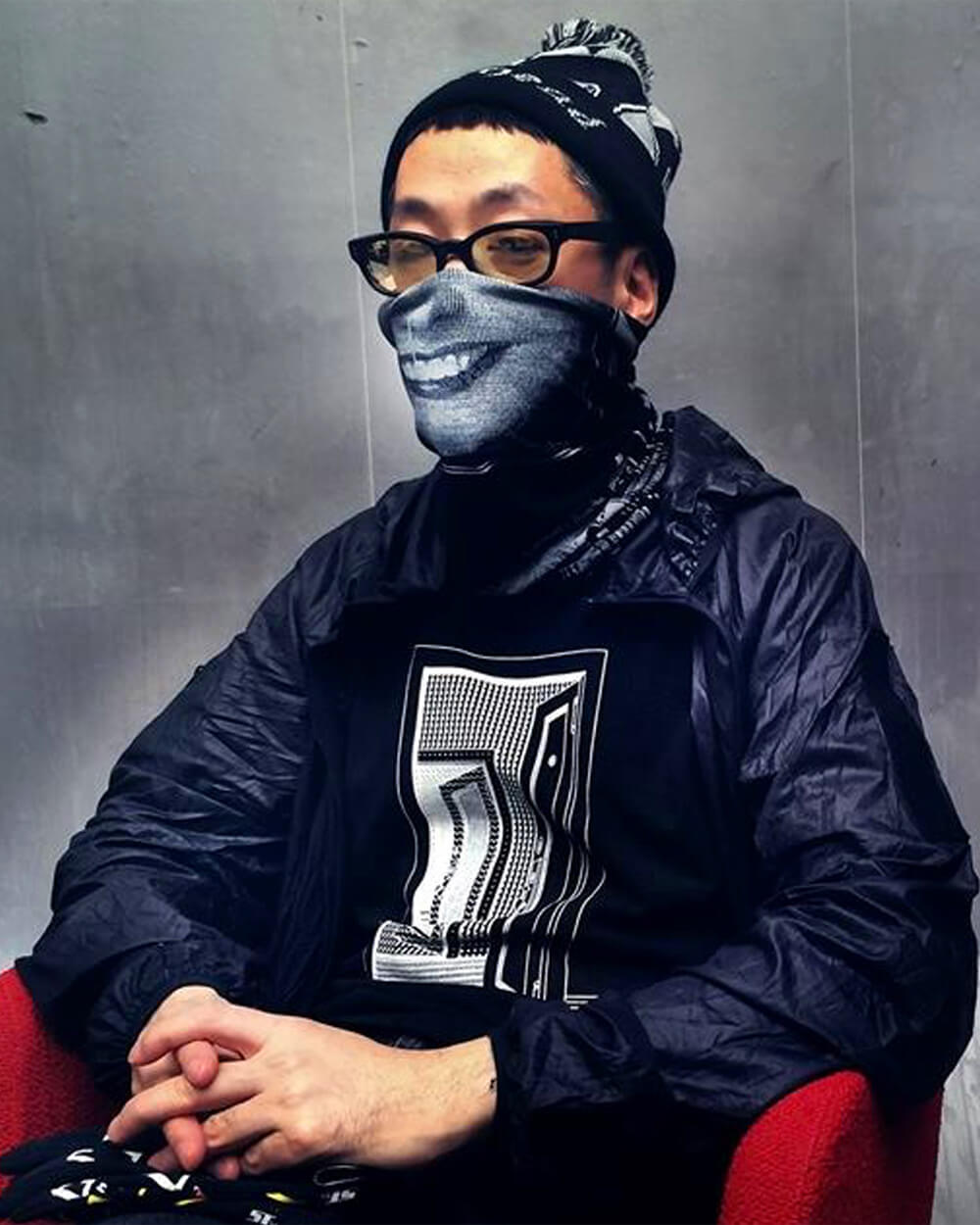 In the past, the designer has created amazing streetwear for Pharrell's Billionaire Boys Club and Ice Cream.
He has also designed for Neighborhood, W-Taps, undercover, Bounty Hunter, and T-19.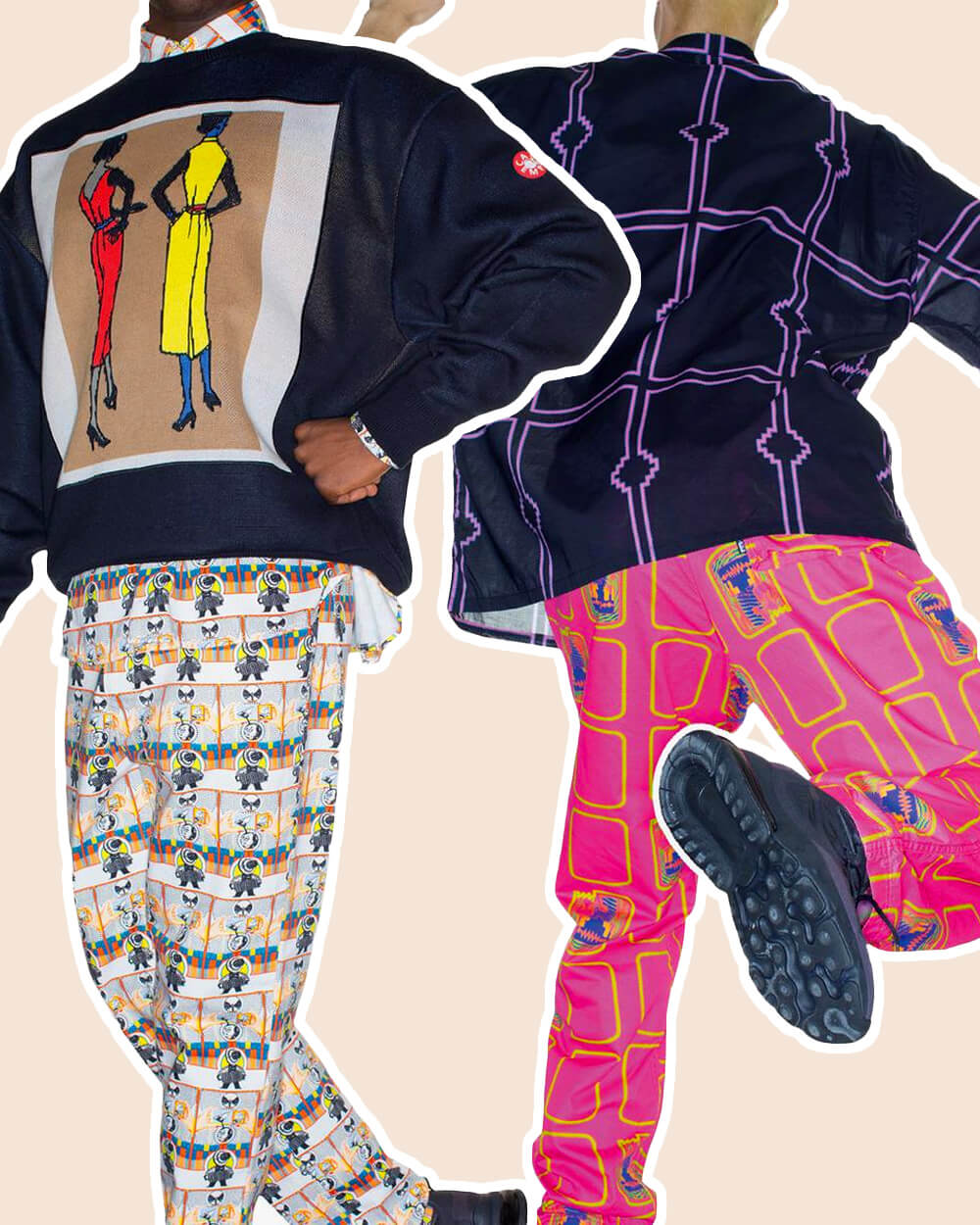 Also a founder of Cav Empt (C.E.) in 2011, together with Toby Feltwell, Sk8thing remains a popular but mysterious public persona.
He uses the mystery around him to promote Japanese street culture through exclusive streetwear couture.
3. Nicola Formichetti
Nicola was born in Japan in 1977, from an Italian dad and Japanese mother.
Now, despite looking about 18 years old, Nicola Formichetti is in his early 40s.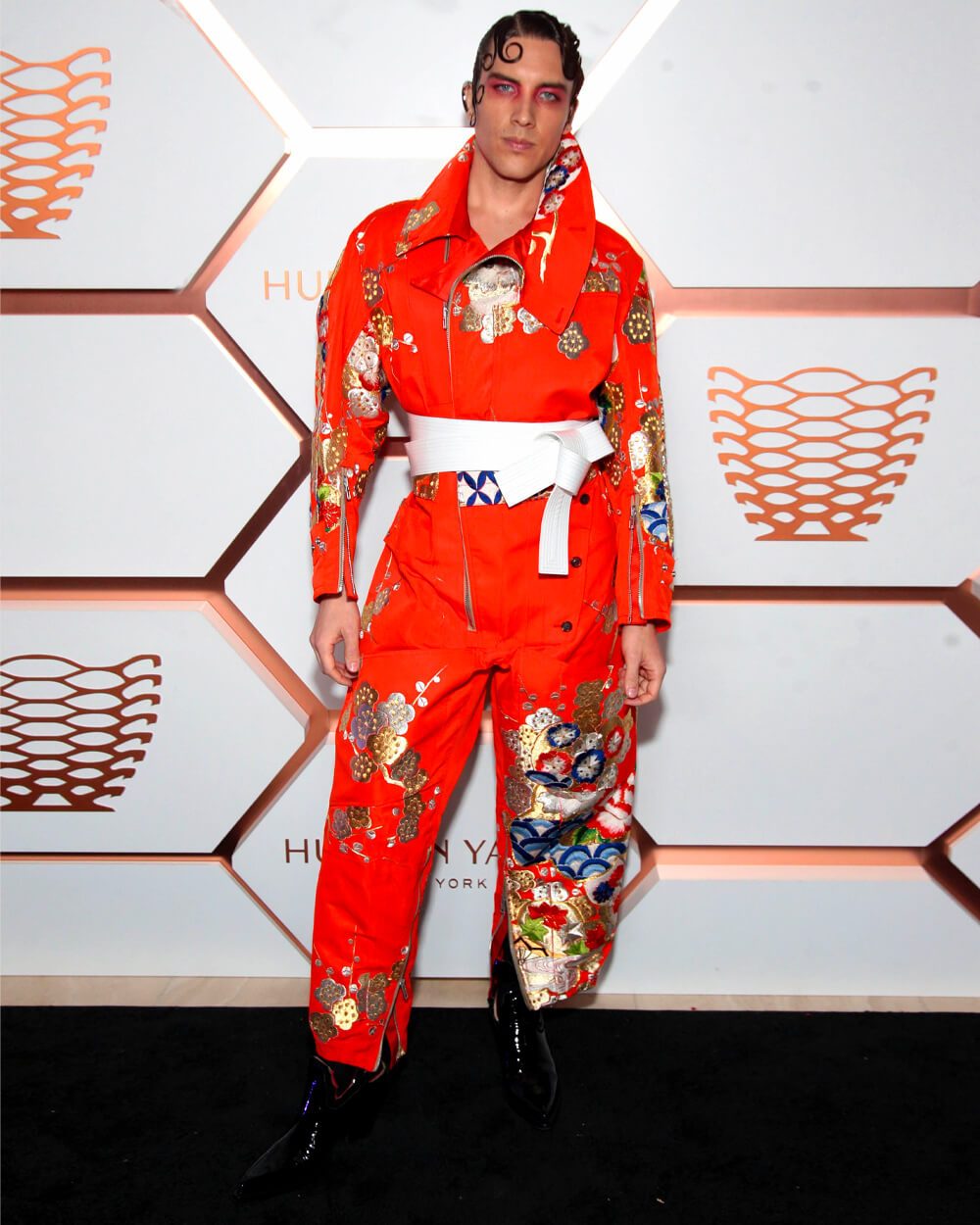 As he grew up in Japan but went to school in Rome, the fashion maverick is fluent in both, Italian and Japanese.
Formichetti is a former architecture student who dropped out of college in the 90s.
The designer worked in clothes shops and went clubbing every night, influences noticeable in his high-profile and upbeat collections.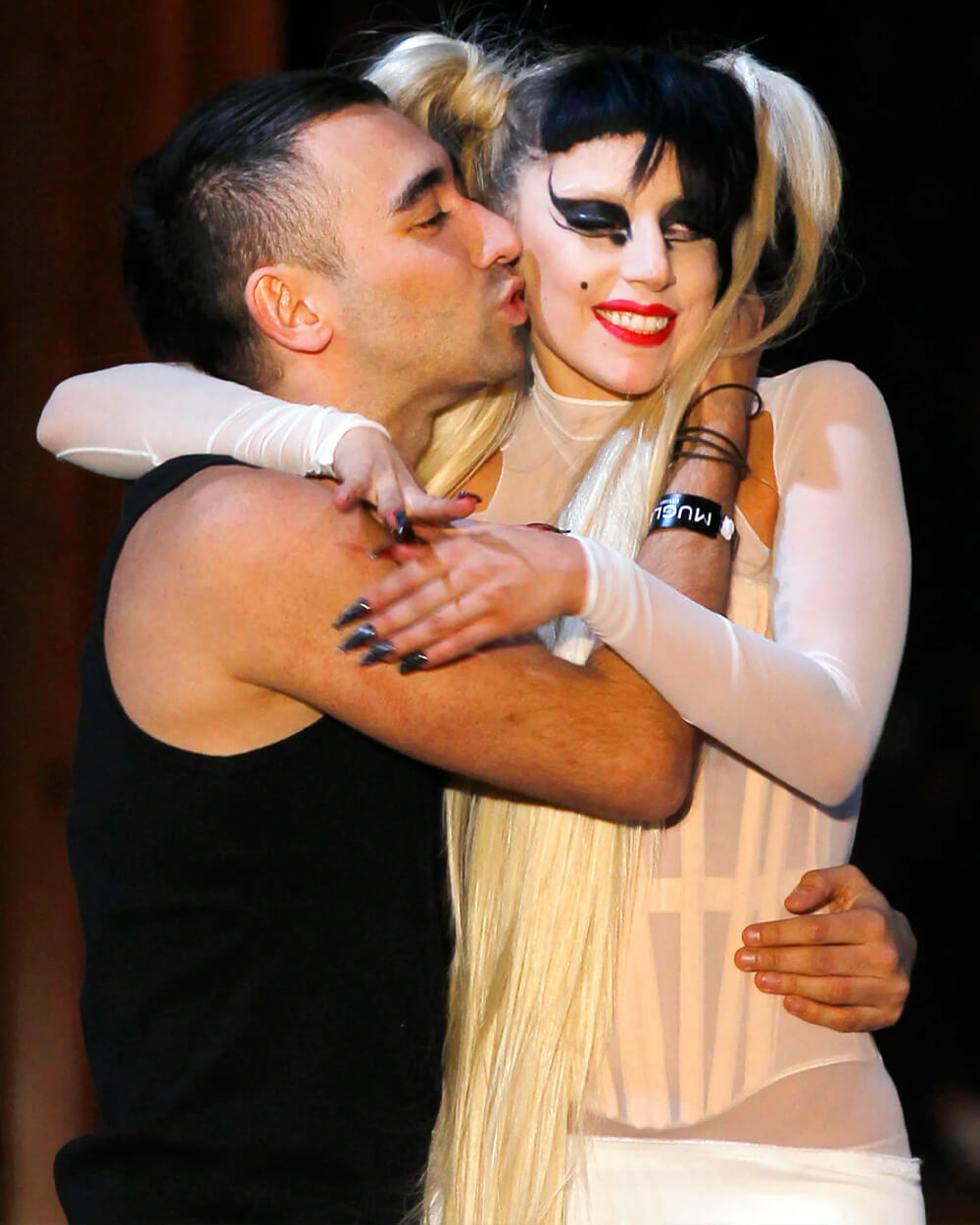 As a creative director, Formichetti has launched several global projects and collaborations with glossy magazines and pop up shops.
He's also loved by celebrities and consecrated brands such as Lady Gaga, Uniqlo, Mugler, Diesel and Brooke Candy, just to name just a few.
Since 2011 Nicola has overseen NICOPANDA, his own 'kooky-yet-accessible' fashion and lifestyle label.
4. Shinsuke Takizawa
Shinsuke Takizawa is a Japanese designer and the founder of the famous streetwear label NEIGHBORHOOD.
Born in Japan's Nagano prefecture, Takizawa showed a keen interest in fashion from a young age.
Interestingly enough, Takizawa's creations display profound influences of punk rock subculture.
According to the designer, this taste was acquired while being an exchange student in London, in the 80s.
After his studies in London Takizawa returned to Tokyo, aiming to become a stylist and DJ.
Having been introduced to Hiroshi Fujiwara through friends, Takizawa joined his Major Force hip-hop record label.
Eventually, eight years later he would become the director of the studio.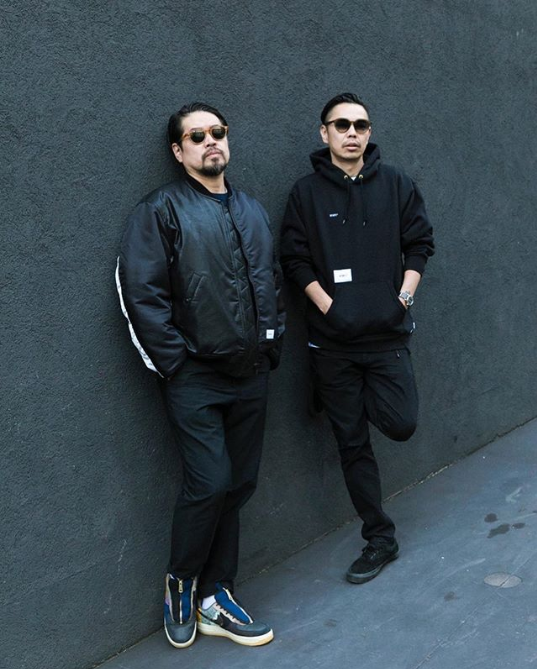 Fortunately, in 1994 Takizawa resigned from Major Force to launch his streetwear label called NEIGHBORHOOD.
Shortly after, the WTAPS designer Tetsu Nishiyama joined the newly formed brand as the creative director.
A pioneer of the Japanese Ura-Hara streetwear aesthetic, Takizawa is considered one of the most influential figures in modern contemporary streetwear.
5. Hiroko Takahashi
Hiroko Takahashi is a Japanese textile designer that became popular for her modern reinterpretation of the classic kimono.
Hiroko is based in Sumida, Tokyo, the home to the Ryōgoku Kokugikan (National Sumo Stadium) and sumo-beya – the stables where sumo wrestlers train and live.
Since 2018 Hiroko has been commissioned by the prestigious Kokonoe-beya to design the yukata (informal summer kimono) worn by its sumo wrestlers.
Hiroko's work is characterised by patterns consisting of simple but essential graphic elements.
According to the designer, these circles and straight lines are the makeup of the universe.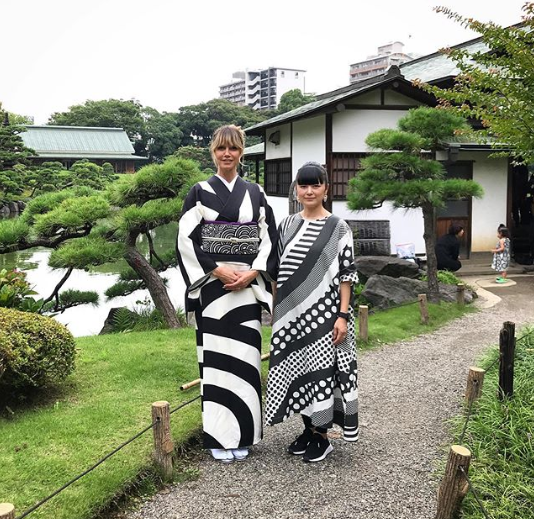 "The 'circle' is a design motif used throughout time, beyond borders and cultures. The potential of the 'circle' is immeasurable".
Early this year a kimono made by Hiroko was featured in 'Kimono: Kyoto to Catwalk' at the Victoria and Albert Museum, Europe's first major exhibition dedicated to kimonos.
6. Junko Shimada
After studying at the Sugino Gakuen Dressmaker Institute of Tokyo, Junko has decided to treat herself to a three-month trip to Paris, to discover the fashion capital.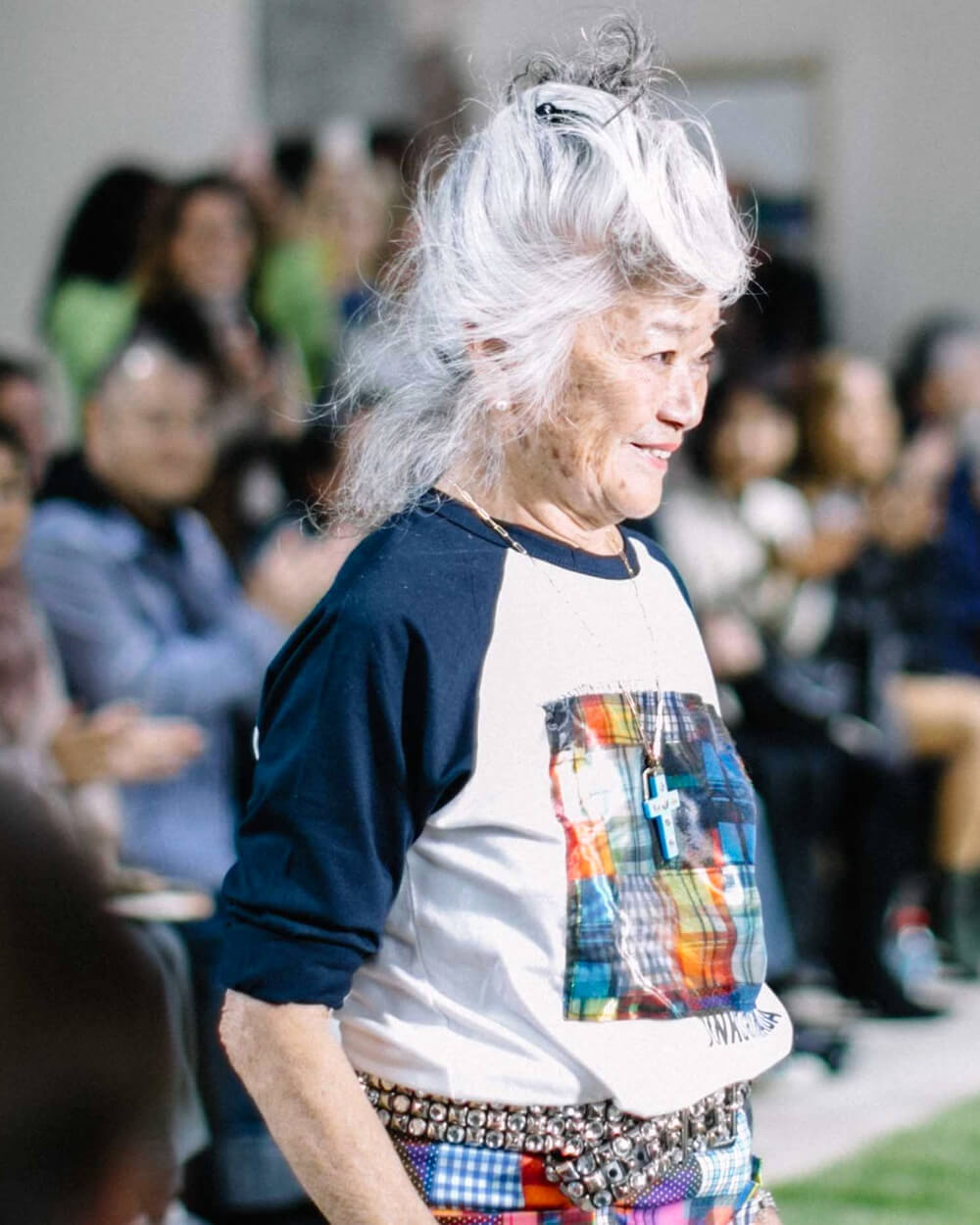 Charmed by the Parisian women she dreamed to dress one day, Junko settled in for good in 1968.
"As a teenager, this city represented to me the aesthetics of the 'Nouvelle Vague.' Above all, is represented liberty from the traditional Japanese 'shackles'," she said.
Not long after Junko became "The most Parisian of all Japanese designers," thanks to a style that was 'shaking up' the Japanese minimalism.
Collection after collection, Junko shows a more audacious persona. Mixing prints, dots, and panthers cohabit in harmony.
Her collections charm global celebrities as it is the case of Lady Gaga who has fallen for her pair of ballet shoes mounted on high plexiglass heels (Junko SS 2009).
"Fashion, to me, is all about passion. It comes from the heart. It is only with passion and heart that the fashion can be created," explains the designer.
7. Tadashi Shoji
Tadashi Shoji is an American-based Japanese fashion designer known for his evening wear and bridal collections.
Born in Sendai, Japan, Shoji showed an interest in painting and drawing at a very young age.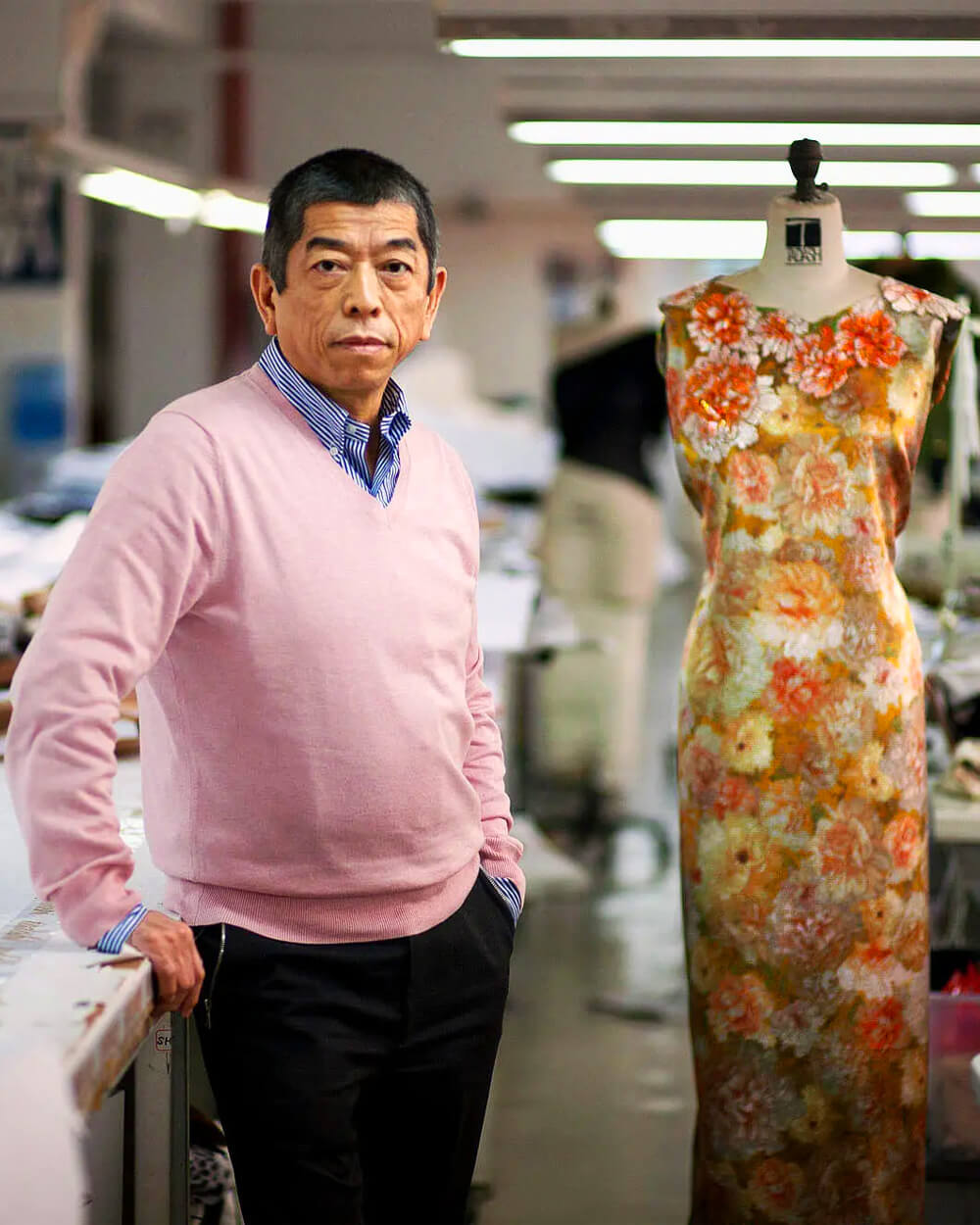 After he moved to Tokyo to study fine arts, Tadashi became the apprentice of Jiro Takamatsu.
Takamatsu is a contemporary artist making art in Japan, very popular during the 60s and 70s.
Eventually, Tadashi launched his eponymous evening wear brand in 1982.
The designer uses traditional dressmaking techniques to turn stretched fabrics into elegant, easy-to-wear silhouettes.
Tadashi's signature pieces include draped jersey gowns, pleated chiffon gowns, and shutter pleated cocktail dresses.
His unique creations are red-carpet staples, sought by celebrities and socialites alike form all over the world.
Right now, the Tadashi Shoji brand is offered in over 700 department and speciality stores worldwide.
8. Yoshio Kubo
Yoshio Kubo is a Japanese designer and a graduate of Philadelphia University School of Textile & Science.
Yoshio had been working for New York haute couture designer "Robert Danes" as an assistant for four years.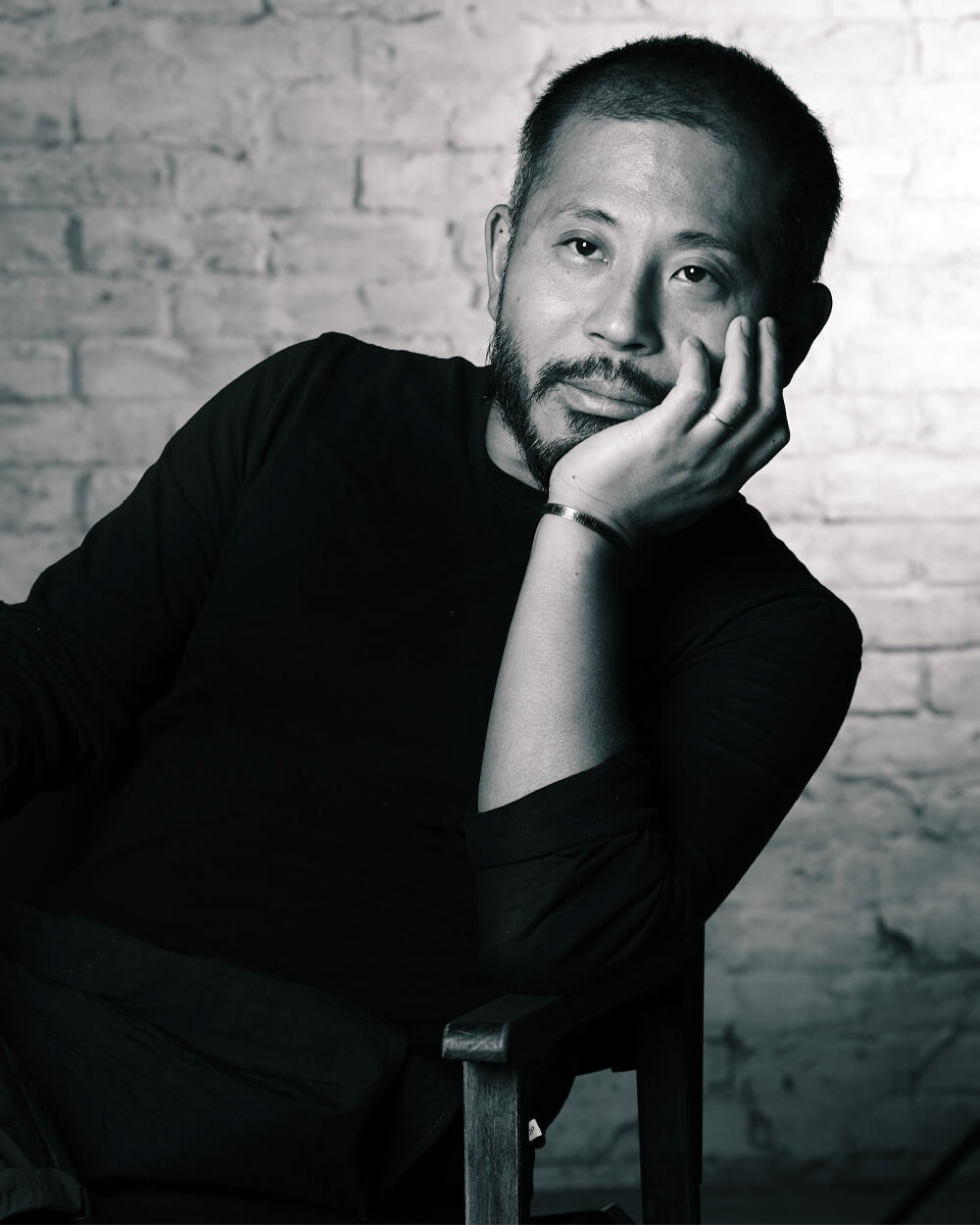 In April 2004, Yoshio Kubo returned to Japan to launch his label, 'Yoshio Kubo'.
In Yoshio's words:
"There are so many outfits in the world. It is an enormous quantity that paralyses people. People no longer think about what to wear or how to dress; they just keep buying. My designs are meant to make people think again, enquire about the meaning of symbols, lines, cuts, in the garments they're wearing."
Yoshio Kubo's collections yield a steadfastness in the face of global upheaval.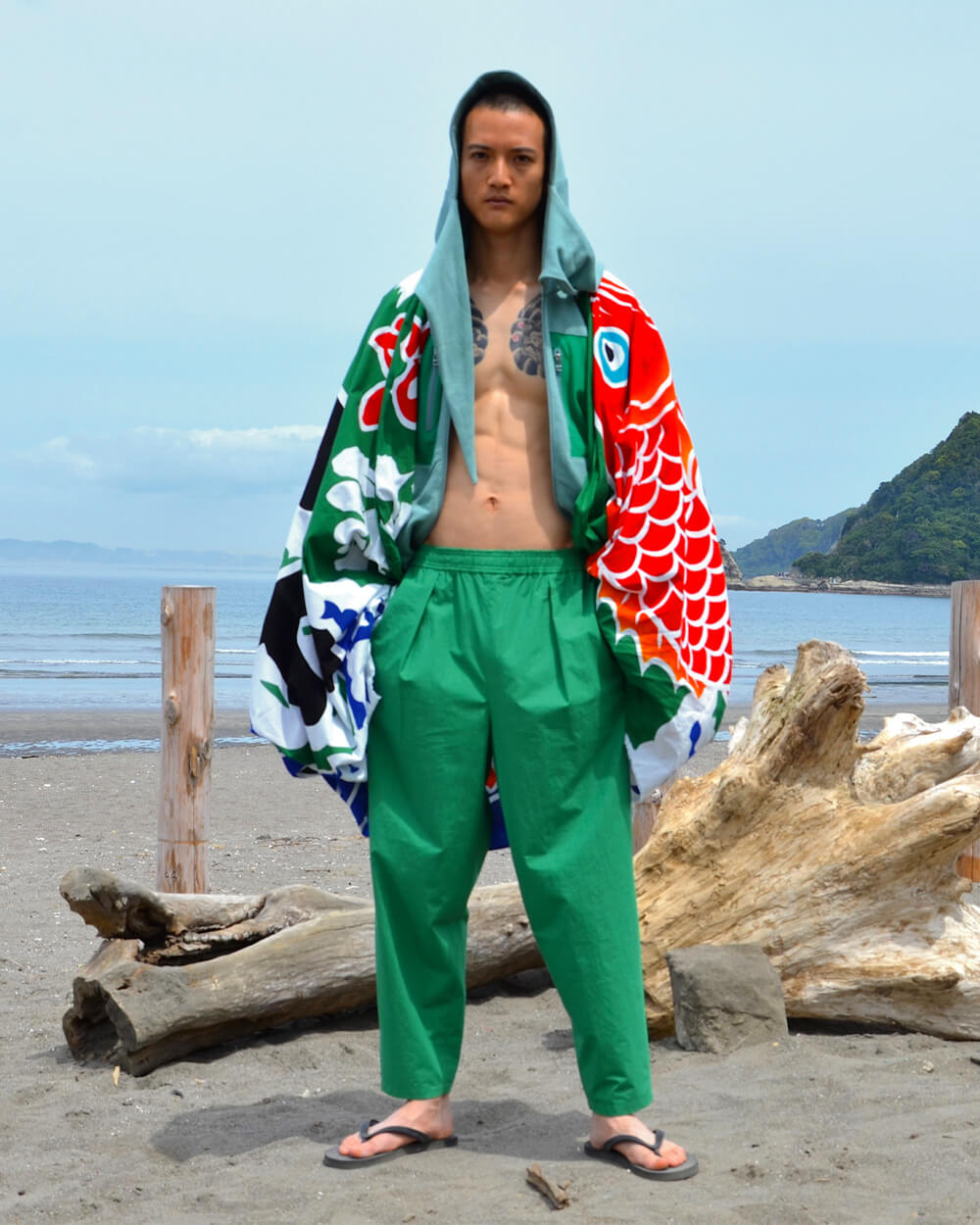 His collections are wholly distinctive, with plentiful exclusive codes. Yet there's a sense of optimism driving Yoshio's output.
Some of his latest creations hint at a bright future, offering a vivid contrast to society's proclivity towards doom-mongering.
9. Satoshi Kondo
Born 1984 in Kyoto, Japan, Satoshi Kondo is the artistic director and head designer of the Japanese fashion brand Issey Miyake.
Satoshi's mother was a sewing teacher, and his house was always filled with pattern cuts and fashion designs.
He studied at Ueda College of Fashion from where he has received a Master degree in 'Fashion Industry Creator'.
"The joy that can be found in the ritual of getting dressed or finding outfits that can make you
happy for the whole day – this is what inspires me", explains Issey Miyake's new head designer.
Indeed, Kondo's clothes are designed for movement, dance and happiness.
For example, the latest Miyake collection was supported by dancers presenting choreography by Daniel Ezralow.
Under the glass ceiling of Centquatre, a cultural space in Paris' 19th arrondissement, the runway was a veritable show.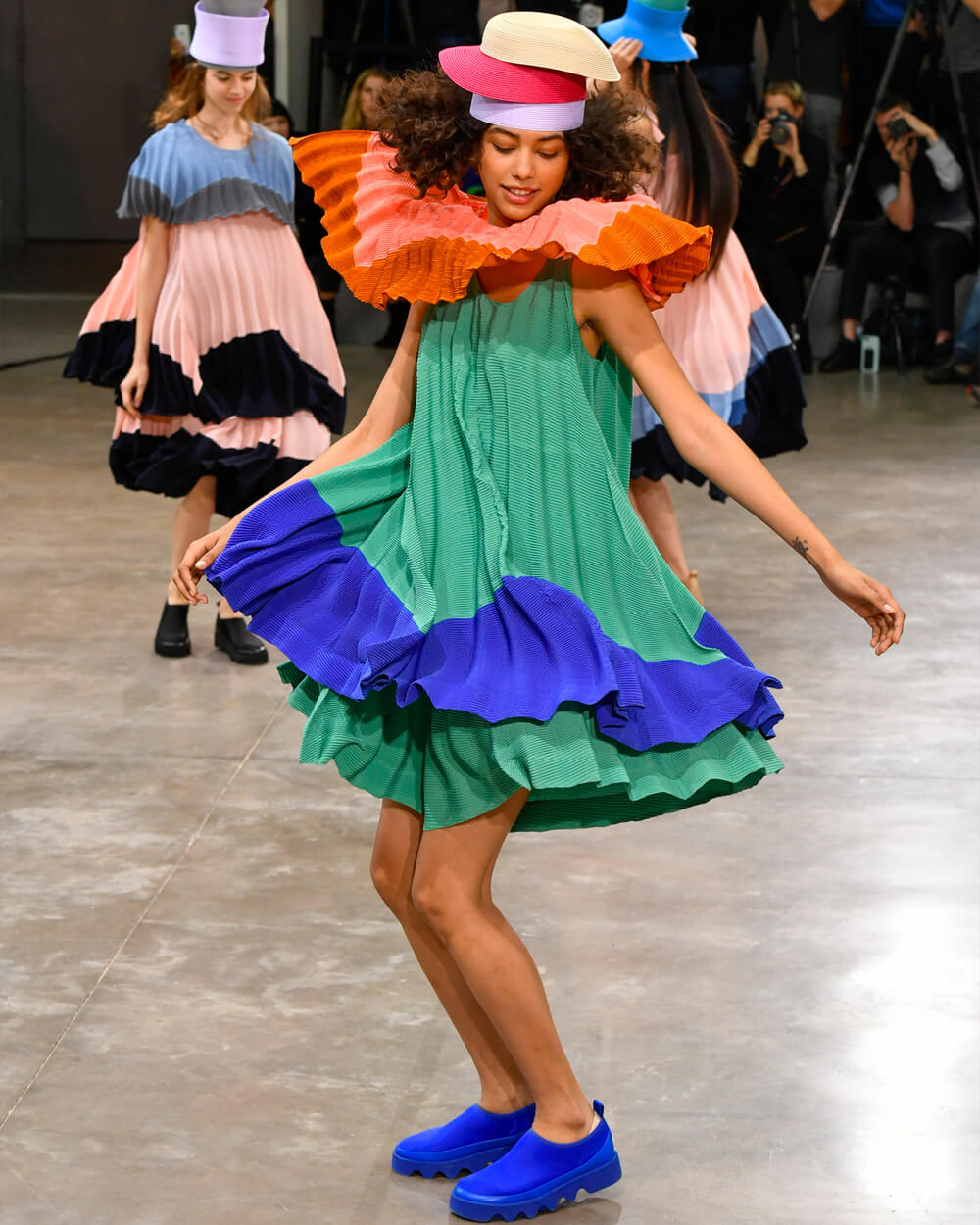 Each part was made up of a series of mini-scenes, each dedicated to a different kind of clothing.
It was a truly mesmerising show accentuated by dancers, acrobats, and the musical interlude of a grand finale.
10. Junya Watanabe
Junya Watanabe is a Japanese fashion designer and a former protégé of Comme des Garçons designer Rei Kawakubo.
Born in 1961 in Fukushima, Japan, Watanabe went on to attend Bunka Fashion College in Tokyo, graduating in 1984.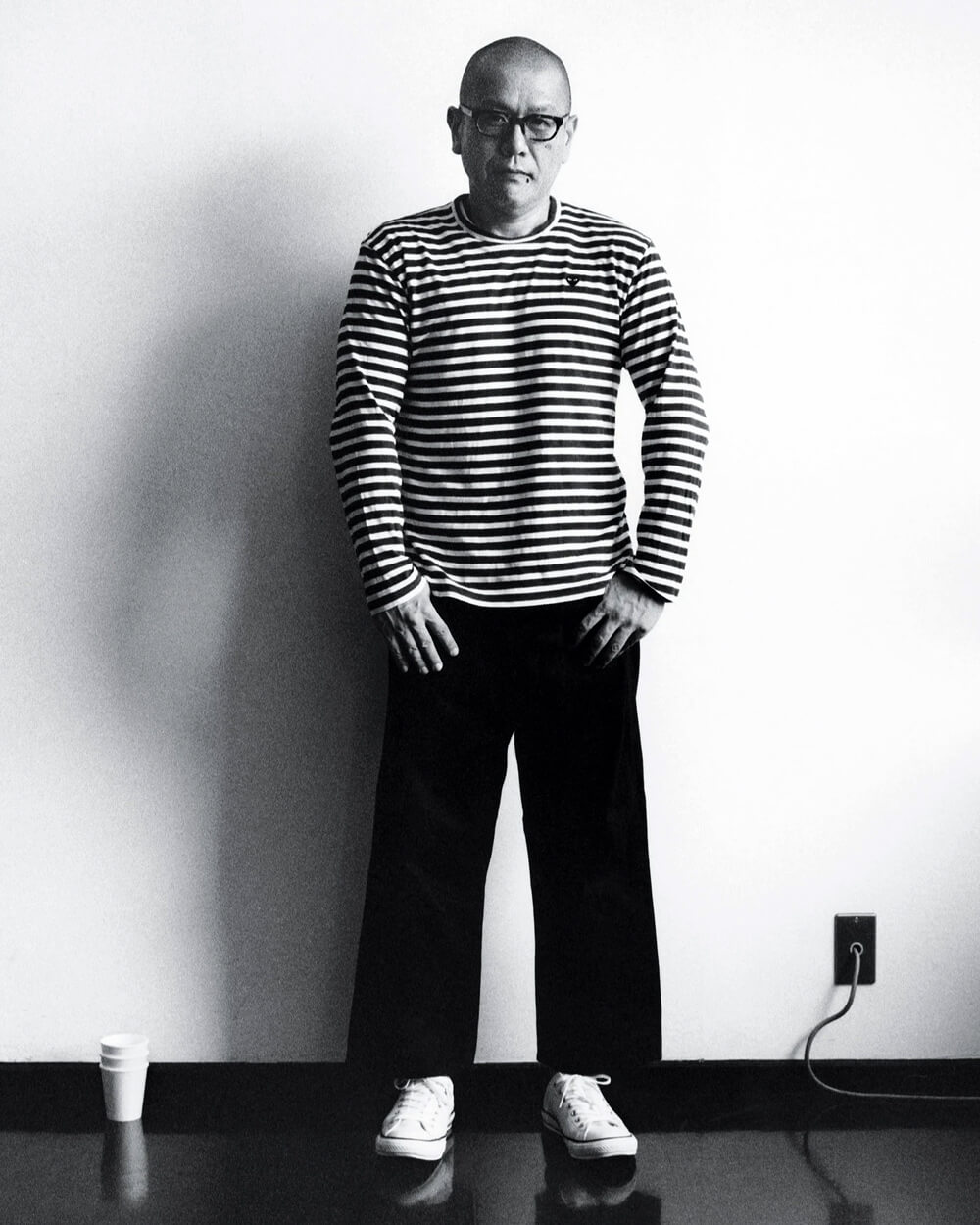 Just like his mentor Rei Kawakubo, Watanabe is renowned for designing innovative and distinctive clothing.
He is particularly interested in synthetic and technologically advanced fabrics, as found in his spring/summer 2001 line.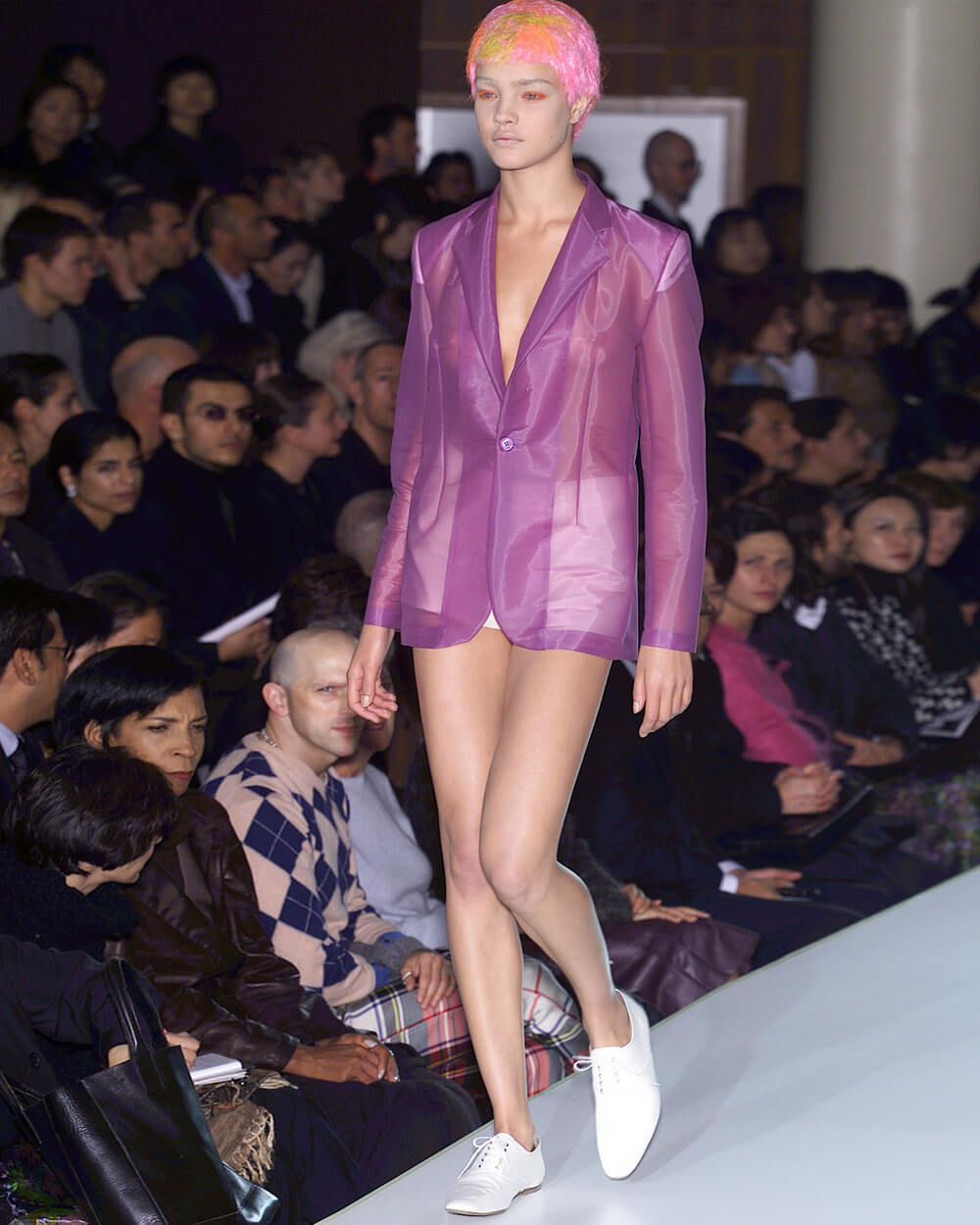 Watanabe is also described as a "techno couture" designer, thanks to his unusually structured garments out of modern, technical materials.
One of the most relevant examples is his solar-power jacket/coat, part of his FW16 menswear line.